Wi-Fi Services
"Unloading end systems from having to host resident applications lets mobile users travel light, without losing processing power, thanks to the latest generation of ultra-portable, browser-enabled, graphics-friendly tablets and smartphones."
(Stavros, IS Senior Consultant)
We are able to offer WLAN Solutions designed to evolve enterprise networks to the new mobility model by enabling a wireless architecture that is device-agnostic, application-aware, easily scalable and transparently manageable.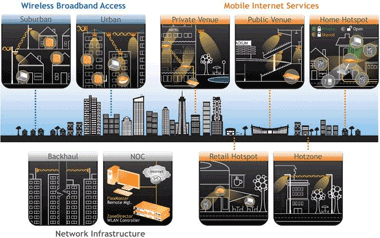 Our strengths in providing WLAN installation and configuration services are:
Scalable Architecture - Plan, configure and deploy IT infrastructures to help achieve your business objectives. Our scalable WLAN architectures deliver enterprise-class features now, with plenty of options for future expansion. Choose integrated or overlay solutions, thin or adaptive access points, controller-based or centralized administration, role-, device- or location-based identity management, legacy compatibility, single, dual or triple radios, and much more.
Multilayered Security - Our WLAN solutions provide comprehensive security against network threats, including shared key authentication, RADIUS/LDAP server, hardware encryption engine, hotspot authentication and redirect, MAC address filtering, wireless IDS/IPS, stateful packet inspection, IPSec VPN tunneling, sensorless rogue detection, heuristic and forensic reporting, proactive alerting, browser-based management consoles and more.
Secure Guest Access - Guest user or hotspot authentication offers secured public access that won't expose internal networks and servers. Guest user logins are captured and redirected to a captive portal login page that identifies and validates user credentials before granting access.
High Availability - Resilient, fault-tolerant controller clusters support 1:N redundancy, load-balancing, traffic prioritization, license sharing, AP redirection and automated failover. AP mesh configurations help eliminate traffic hairpins and congestion for high-density user access. Self-Monitoring at Run Time Radio Frequency (SMART RF) senses and adjusts power levels and signal strength for changing transmissions distances, RF interference and hardware failure.
Toll-Quality, Wireless Voice - Multiple-input, multiple-output (MIMO) antenna arrays and dual-frequency bands (2.4 GHz/5GHz) provide wired-like throughputs and signal clarity. 802.11e Quality of Service (Qos), Wi-Fi Multimedia (WMM), Unscheduled Automatic Power Save Delivery (UAPSD), SIP Call Admission Control and SMART RF optimize delivery of time-sensitive traffic, such as IP PBX telephony and multicast video.
Design and Deployment - Deploy our WLAN solutions anywhere in the network with easy integration into your existing topology. For pre-installation site surveys, specialized software helps determine optimal installation and configuration of WLAN hardware, and takes into account existing infrastructures, RF environments, user densities and service types and quality.
Monitoring and Management - We use WLAN service platforms that work like a virtual IT assistant to remotely monitor, configure and troubleshoot wireless environments across the entire campus, including remote locations. Control consoles delivers real-time visibility into and control of a wireless infrastructure comprised of hundreds of APs and thousands of disparate client devices.