Wi-Fi Services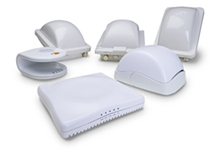 The deployments of our WLAN solutions help resolve traditional network challenges, such as:
Installing seamless, mobile connectivity across multiple locations thus giving mobile users reliable access to network services and data regardless of where they go, including temporary sites, branch offices and remote campuses.
Ensuring clear transmissions in mixed RF environments to minimize network lag time and maintain QoS for mobile devices sharing airspace already crowded with wireless signals from 802.11, 3G/4G, microwave, Bluetooth, HIPERLAN, and other RF fields.
Delivering voice, video and imaging to hard-to-wire locations by distributing toll-quality voice, real-time video and interactive media to outdoor sites such as college campuses, construction sites, sports stadiums and solid-walled structures such as elevator shafts, parking garages, brick buildings.
Deploying cost-effective, future-proofed infrastructures to maximize capital IT investments with standards-based architectures, device-independent interoperability, backwards-/forwards-compatibility, remote manageability, plug-and-play installation and easy wired-to-wireless integration.
Enforcing multi-tiered security that protects data, users and networks by adding multiple layers of protection—including authentication, encryption, activity monitoring, intrusion detection/prevention and sensorless scanning—that follow mobile connections across decentralized data centers, and wired and wireless infrastructures.