Wi-Fi Services
Our fully 802.11-compliant offerings imbue WLANs with the intelligence to identify devices and users as they connect; flawlessly adjust the level, confidentiality, quality and type of services being delivered; track and locate roaming connections and portable equipment; monitor for and safeguard against unauthorized machines, activity, sessions and users.
We deliver a "smarter" enterprise network infrastructure; one that unifies wired and wireless segments of the LAN, virtualizes data centers and frees users to roam like never before. This is achieved by greatly simplifing the task of mobilizing users, without compromising security or performance while supporting the most advanced wireless applications—including cross-subnet roaming, high-speed multicast, mobile voice or streaming multimedia.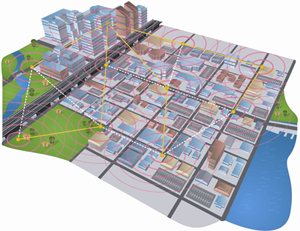 Our designs support high-bandwidth, high-performance enterprise applications with Access Points ideal for delivering low-latency voice and video streams and bandwidth-greedy imaging files. All these by providing a wide selection of form factors answers just about any installation challenge—outdoor/indoor environments, surface/hidden mounts, high-/low-interference environments, remote/centralized management—and office sizes ranging from single telecommuters, to small branch campuses, to large headquarters.